Gastronomy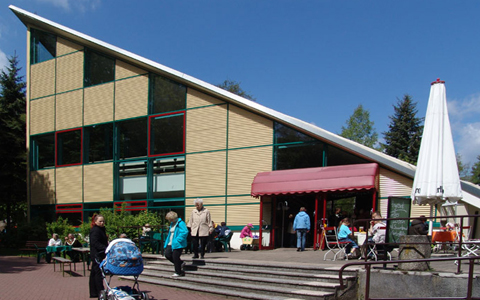 We care for your well-beeing
A visit to the restaurant or the zoo building at the jungle house is part of the attractions at Eberswalde Zoo.
Young and old zoo visitors can take a rest and enjoy a meal and other refreshments. Furthermore we will be happy to arrange your private evants and celebrations.
The summer terrace and beer garden invite you to stay.
Special arrangements
Finesse group's zoo gastronomy offers attractive arrangements and special offers. Whether visiting the zoo, a party at the lion enclosure or tea dancing for seniors, wa zoo visit with Lunch for daycare centers and school classes, weddings, travel groups or stress-free children's birthdays – the finesse group's zoo catering provides flexible and inexpensive catering for your physical well-being.
Celebrate in the zoo
An experienced catering team is available for private events of all kinds, whether anniversaries, family or company celebrations – even beyond official opening times.
Fun for everyone
In the guest rooms, people with disabilities will find suitable driveways and sanitary facilities. Mothers and fathers will find a baby changing room, bottle-warming possibilities and order inexpensive children's meals.
Contact
For reservations and inquiries
please contact zoogastronomie@finesse-gruppe.de
or call 0 33 34/20 22 530
The team of our zoo restaurant will be happy to help.