Directions + Parking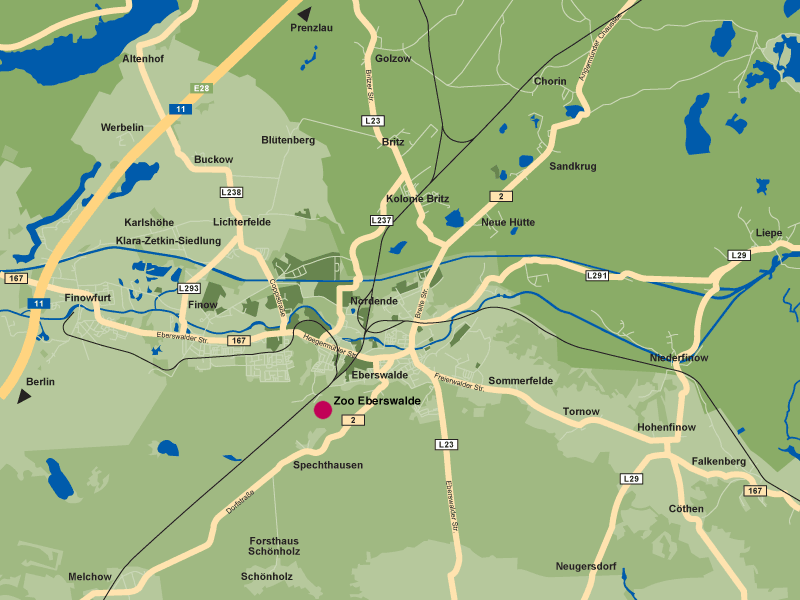 Eberswalde zoological garden
Am Wasserfall 1
16225 Eberswalde
Car | Coach
A11 exit Finowfurt. Then continue on the B167 towards Eberswalde. The Eberswalde Zoo is signposted. At the level of Familiengarten, turn onto Spechthauser Straße, which ends in a right-hand bend, after which you have to turn left on Zoostraße to toards Wildparkstraße – turn right here. The zoo is right behind the level crossing.
PARKING
There is sufficient free parking space for cars and coaches in front of the zoo.
Train | Public transport
Train connection every hour with the RE3 from Berlin main station, Berlin-Gesundbrunnen via Bernau to Eberswalde (main station) or with the RB60 from Frankfurt (Oder) via Wriezen to Eberswalde (main station).
Travel information from Deutsche Bahn.
Then about 2 minutes' walk to Eberswalde bus station. From here, the 865 bus connects directly to the zoo (towards Gropius Hospital).
bicycle
From Eberswalde train station, follow Eisenbahnstrasse towards city center (east). After roundabout 400 meters turn right into Grabowstraße and after another 400 meters right again into Rudolf-Breitscheid-Straße. Follow for about 1 kilometer to the zoo.
PARKING
Free, lockable motorcycle and bicycle boxes are available. A deposit of € 20.00 in cash must be paid for the key.
E-charging station
An e-charging station for cars, scooters, bicycles, etc. is available.
Important NOTE
For safety reasons, it is not permitted to use the running bike, tricycle, bicycle, Segway or scooter in the zoo. Dogs can be kept on a short leash.