Children's birthday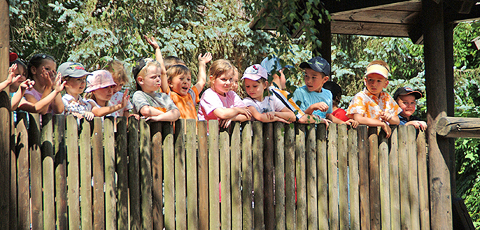 Have a party with us!
Let's go to the zoo with the whole party company: roam around the zoo grounds and experience many exciting things. After the adventure trip you can choose from one of the previously selected creative offers: animal beautiful plaster figures paint, cool T-shirts or bags design (T-shirts are to bring in the appropriate size) or get a beautiful glitter tattoos? Finally, at the nicely decorated birthday table, nibble on treats you've brought yourself. In any case, it will be a beastly exciting day.
Contact ZooSchool
Mon-Fri 8:00 a.m. to 4:00 p.m.
Phone: 03334/2 28 09
E-mail: zooschule2@eberswalde.de
Tour or treasure hunt?
You can learn a lot about our animals on a zoo-tour as well as pet and feed some of the animals. Or do you prefer a treasure hunt for little pirates? (Treasure needs to be brought by yourself)
Catering
Food and drinks must be brought by yourself. Dishes are available.
Party parties can also be catered for by the finesse group's zoo catering. Various low-cost offers are available upon request.
Contact gastronomy: phone 03334 – 202253.
Fee
The price of 50,00 Euro for the birthday round plus entrance fee per child, is valid for up to 8 children.
The birthday child has free admission.
For each additional child you pay the regular zoo admission plus 1.50 Euro zoo fee.

Duration and schedule
The program takes two hours and is offered from Monday to Friday from 9:00 a.m. to 4:30 p.m.
Schedule (2 hours):
Tour or treasure hunt: 1 hour
Birthday table: 0.5 hour
Creative crafting: 0.5 hour